Audio recording:

--------- BEGIN ACTUAL POST ------------

The Japanese Skincare Revolution: Why I hate this book (skeptical book review)
The Japanese Skincare Revolution
is a book that was pretty popular a couple years ago. And as you'd guess, it claims to divulge the secrets of flawless Japanese skin. I know just about everyone loves this book, but let's just say that it's not my cup of tea.
The bulk of this book is massages; there are no mind-blowing secrets apart from that. There is a little bit of introduction on skincare regimes, but nothing that people who read beauty blogs don't already know. Everything is cushioned with fluffy, happy-go-lucky writing. This book is best suited for people just getting into skincare—people who are enthusiastic to start taking care of themselves, and those who do not struggle with demoralizing acne.
I, on the other hand, come from a history of cystic acne. And because of that, I hate oversimplified advice. "Become my own dermatologist," you say? Hah, if only it were that easy! When it comes to skincare, I believe in a practical and down-to-earth approach. Skin is an organ, and dermatology is a science. I don't like fluffy writing, nor do I believe in holistic skincare. Unfortunately, both of those are present in this book.
Here is a breakdown as to why I can't stand this book:
1. Flowery and fluffy writing:
The author's writing style is extremely flowery. You see this through her choice of words and her sentence structure, both of which pull you into her warm, whimsical world of beauty:
"Take in beauty with all your senses."
"Put your heart into every drop of the skincare products you choose."
"Restore your skin's vigor by generously fortifying both the epidermal and dermal layers."
And here's an example of what I mean by fluffy. She says:
It sounds great and all, but if you look closely, most of it is fluff. She talks so greatly about how important things are, but she doesn't actually teach anything. Her only advice in that paragraph is to use your hands. "Putting your full heart into each step" does not count as advice. What am I supposed to do, slather my face with gusto?
2. Her approach to skincare: Shamanism
Her approach to skincare is part science, part spiritual. For example, she recommends you to "urge your brown spots to disappear or your cheeks not to sag." A recurring theme of hers is "beautiful skin from within." Here are some other excerpts:
"…I thank my skin every day during my skincare routine. In response, the skin will be gratified and increase its beauty."
"Our brains generate alpha waves…they enhance our natural healing power."
Yeah, no. I can't do that. And this, read this:
I'm gonna go out on a limb here and call her crazy.
Now, obviously not every sentence in this book is about her hormone-secreting fantasies, but if you combine what I've showed you thus far, you get a pretty good idea of the things she says, and how she says it. Plentiful analogies, fluff, and spiritual advice.
3. Her solution to everything is a serum and lotion mask
In Chapter 2 she attempts to address various skin types and issues (moisture, firmness, elasticity, clear skin), but her answer to everything is almost always the same: either use a serum, or use the lotion mask:





And yet, she doesn't even explain how to choose a proper serum! And as far as the lotion mask goes, you don't even need to buy the book. You can learn about it for free here:
https://www.youtube.com/watch?v=q0wbX7rjtec
4. But doesn't Saeki teach you how to make the most of your cosmetics?
That's what I thought. I mean, that's what she claims to do. "It's how you use your cosmetics, not what you use, that will transform your skin," she says.
But really, the only part where she talks about
how
to apply products is the lotion mask. Apart from that and maybe one massage, the rest of her massages focus on the massage itself, not on making the most of a product through that massage.
5. Vague and unsubstantial skincare advice
I've come to believe that the focus of this book is not on teaching. A lot of her skincare advice is vague and incomplete. Here and there she'll offer interesting tips that catch my eye, but she never elaborates or explains why. For example, she mentions using damp cotton instead of blotting papers: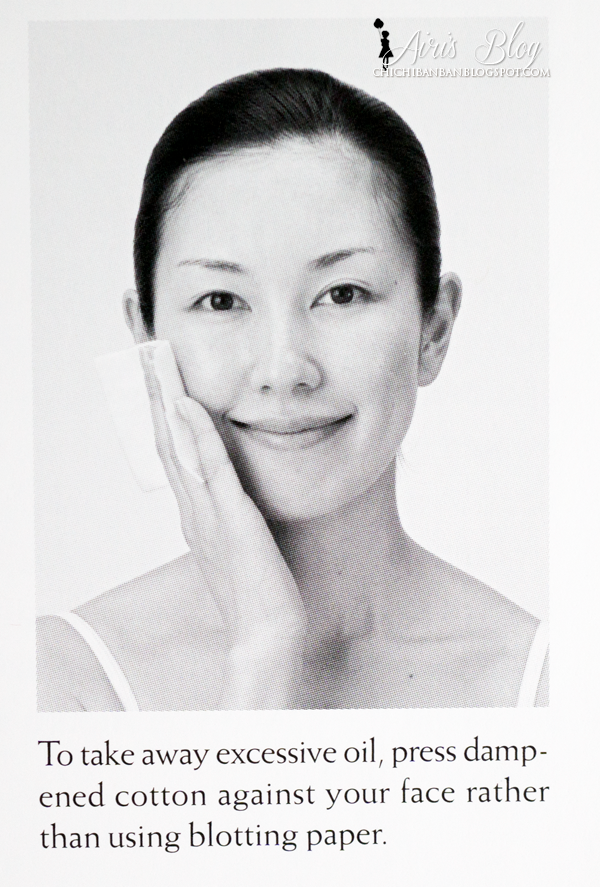 That's interesting, but why? What's wrong with blotting paper? Is there something I should know? Or in the following picture, she instructs to wipe your face off with wet cotton (after using makeup remover to dissolve your makeup.)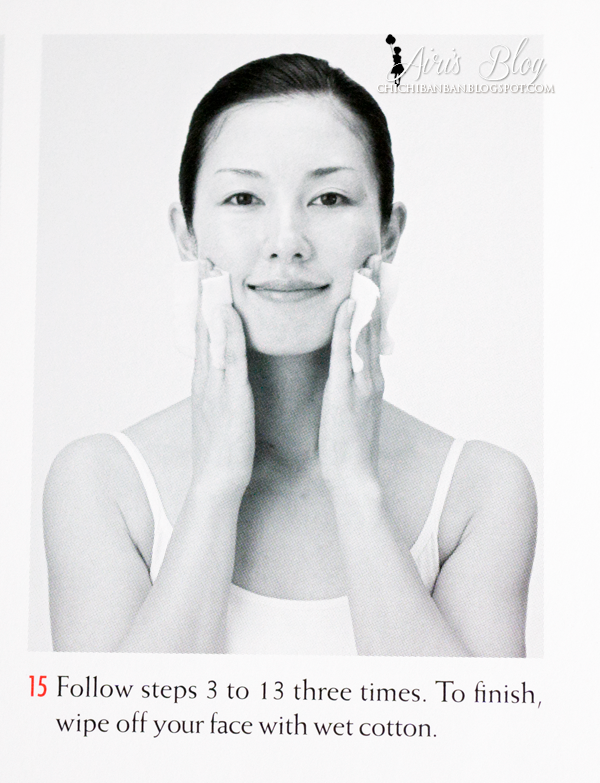 Again, why? Why wouldn't you use water to rinse off your makeup and makeup remover? She merely mentions it in passing without any explanation, which is why I say that this book isn't really about teaching.
Sometimes, her advice is even questionable. She advises the use fragranced products for extra soothing effect:

But aren't fragrances known to be irritating on the skin? She also advises to use alcohol to disinfect your acne:
Isn't alcohol an irritant as well? And doesn't skin not work that way?
6. Her unhelpful skincare regime
The last few pages of her book center around choosing a skincare regime for your skin type. Problem is, it's almost entirely lists with little explanation, which I find pretty unhelpful (and untrustworthy, without explanation.)
Once again, she doesn't lead you through why she made these choices, which basically asks us to blindly trust her without fully understanding her train of thought. She doesn't even detail how to find products that actually deliver these results. She merely dances around the topic of choosing a skincare regime, getting just close enough to make people think that she's saying something useful.
7. But if you like massages, then you might like this book:
Most of the content in her book is massages: massaging your face while you cleanse, massaging to remove wrinkles, massaging to unsag your neck, your cheeks, your mouth, to remove acne, massage everything!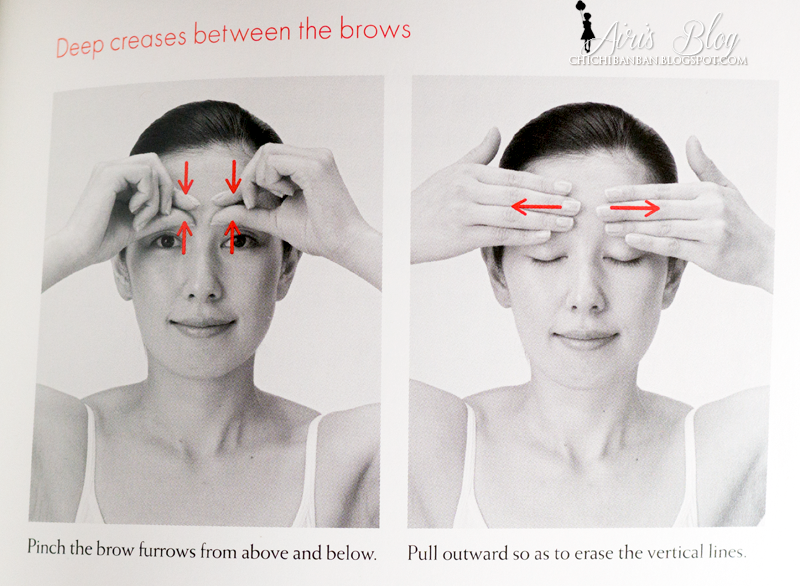 I don't like massages (which is a big reason why this book was disappointing to me), but if you do, then there are a number of interesting massages in this book. Although, I still found their instruction vague and contradictory towards one another.
My final opinion
Honestly, I hate this book. I think it's a waste of money and provides little intellectual value. She promises a plethora of mind-blowing knowledge, but she never really pinpoints anything in particular, nor does she give a solid list options to try. (Unless you are into massages, in which case she gives several routines to try.) For people like me who either don't care for massages or already have an intermediate knowledge of skincare, this book is far from revolutionary.
I will admit that a lot of my resentment comes simply from the fact that she and I have different approaches towards skincare and communication, so I completely understand that there are people who love her book. I myself might have liked it 7 years ago before I knew anything about skincare. So for anyone reading this who does like this book, don't be offended; it's nothing personal.
Overall, I'd say the main secret to this book is not the content itself, but her approach towards it (flowery, spiritual, happy-go-lucky.) It's like a huge pep talk. It's definitely an inspiring and motivating read for beginners to Asian skincare, or even skincare in general, since all her recommended products are Western. And of course, this book is also catered towards people interested in massages.
Thanks for reading! Where do you stand in terms of skincare approach?